Up Coming Events at the Club:
​
5/9 - PSL Soccer Club Annual "Mothers Day Celebration" at Swan Park
5/15 - End of Season Awards Celebration for Micro and U8 Teams
5/16 - Last Games - End of Season.
​
Swan Park - Field Conditions -
Park is - CLOSED for downtime.
Sign up for Hurricanes news and updates
Spring Season Update (3-28-20) - Corona Virus - The Florida Youth Soccer Association has decided to continue suspension of all games and events until April 15th. At that time FYSA will evaluate the virus situation and make a determination to extend the closure time or lift the suspension. We will send out more updates as they become available. We have been in contact with our Parks Dept and local gov officials in trying to extend our Seasonal programs into June. Rest assure that we have the kids best interest and safety in mind, we will have a Spring Season and get things going soon. In the meantime, stay safe and be well.
​
PSL Soccer Club
Board of Directors
3/8/2020 - Congratulations to the U14 Boys who competed in Gatlinburg Tenn. The Boys, Parents and Coaches braved cold weather all weekend and even had the opportunity to play in the snow. The Boys made it to the Finals but came up a bit short. This was a great experience for the boys and showed that Hurricanes are making a statement everywhere they play. Congrats to Coaches Carlos and Justin for helping the boys achieve a pathway for success.
3/8/2020 - TCSL "Development Pathway League. The Lady Hurricanes U10 Girls split into two teams for the DPL Playoffs and took home First and Second place honors. Congrats to Coaches Justin and Joyce for a Job Well Done!
3/8/2020 - Vero Winter Cup / Congrats to the U15 Boys for being crowned Champions in their Division. Congrats to Coaches Anthony and Henry for helping bring the Cup Home to PSL.
2/16/2020 - Florida Coast Cup; Congratulations to Coach Julie, Assistant Coaches Diego and Yosley for leading our U16 Lady Hurricanes to a Championship! They dominated all weekend and earned a well deserved Championship. Well done ladys!
2/16/2020 - Jupiter Presidents Cup; The Hurricanes entered the Tournament with 11 teams, Congratulations to all teams that were crowned Champions, Finalists and Semi-Finalists. We were well represented and gained respect from many teams that we played, well done! U10 Boys - Finalist, U10 Girls - Champions, U11 Boys Red - Finalist, U12 Boys Red - Champions, U12 Girls - Semi-Finalist, U15 Boys - Semi-Finalist
12/14/2019 - Treasure Coast Soccer League - World Cup; Congratulations to the U10 Girls Developmental Aademy team for becoming Champions of the Tournament. This Allstar team is on the pathway to becoming a Competitive team and dominating wherever they play. Congrats to Coaches Justin and Joyce for their hard work and dedication to the girls.
2/2/2020 - Dimitri Cup / Naples; Congratulations to the 2001 PSL Lady Hurricanes and Coach Erik Didden for being crowned Tournament Champions! The Hurricanes defeated Chicago Fire 3-2 in the Finals to bring the Championship home to Port St Lucie. We're proud of the ladies and Coach Erik, job well done!
PSL Soccer Club - 07/08 Girls participated in the annual 5K Turkey Trot. Coaches Erik and Jeff took on the challenge along with players Ayla, Genesis, Timyrah, Corinne and Kayleigh. Congratulations for completing the 5K and representing the Club.
Saturday 10/26/2019

- 6:30pm - 8:30pm
The PSL Soccer Club - Annual Trunk or Treat was a huge success once again! Below are the Costume Parade winners and team vehicles that won a Free Pizza Party! Congratulations to Micro #1, Team #202, Team #204, U10G and U12G.
Everyone had a great time! Thanks for supporting the PSL Soccer Club.
ODP - (Olympic Development Program) - Announcement
Congratulations go out to Chris Caron of the PSL Soccer Club's U18 Boys Competitive team. Chris has been selected to the ODP training pool which will help him on his dream of playing in College. Chris started playing with us at the age of 3 in our Micro program. Over the years he went on to play at other club's developing his skills. Now at the age of 15 he's back with the Hurricanes and fulfilling his dreams. We're so proud of him and his accomplishments, we wish him Good Luck in the ODP program.
​
"Once a Hurricane - Always a Hurricane!
Congratulations go out to Kayleigh Marreel of the PSL Soccer Club's U13 Girls Competitive team. After going through local and State Trials for the US Youth Soccer's Olympic Development Program, Kayleigh was invited to join the State Team and represent Florida during the Region III camp in Alabama this summer. After training with the Florida State Team and playing games against Tennessee, Louisiana, and power houses North Texas and South Texas, the Region III coaches chose Kayleigh and one other goalkeeper from 12 states to represent Region III this upcoming winter when they train and go play the other 3 regions in the nation.
When Kayleigh was asked why she tried out for ODP she answered: "I wanted to challenge myself to learn and develop with different goalkeeper coaches while training hard and pushing myself to the best I can do. My goal is to play on the US National Team one day, and the Olympic Development Program is the shortest path to realize that goal."
Congratulations Kayleigh – keep up the good work!
4/20/2019 - The PSL Soccer Club hosted its second annual Easter Egg Hunt at Swan Park - The Event was open to kids ages 4 - 12. 80 participants showed up for the youngest group and another 65 for the older group. In some of the eggs were hidden prizes and 4 - FREE Registrations were awarded for the Fall Soccer program, fun was had by all - Join us next year and find those prizes! To see all of the pictures from the event, go to our Facebook page.
5/11/2019 - The PSL Soccer Club hosted its annual Mother's Day Celebration at Swan Park. - The annual event on game day is a surprise to all of the hard working and dedicated Mom's. The players from all 54 Recreational teams at half-time receive a flower and give it to their Mom on the parents side of the field. The reactions are priceless and well deserved. Our way of saying "Thank You" for supporting youth soccer and the PSL Soceer Club.
5/18/2019 - PSL Soccer Club - "Always a Hurricane" Celebration - The PSL Soccer Club recognizes the players that laced up the boots for the last time. These are players that have reached the age where they can no longer play youth soccer. We appreciate their dedication to soccer and support of the Club through its various programs - We wish; Brandon Amaya, Troy Gitlin, Jose Loreto, Anthony Yeber and Ian Wolken all the best and thanks for playing with us - "Once a Hurricane, Always a Hurricane"
Referee Update - Want to become a Referee? We are looking for kids and adults ages 13 and up that want to become an official. Learn the game from the other side of the line, make $$ and enjoy the game you love. Classes for new referees are taken online at: www.flsrc.org - Log on and Register! Referees wanting to re-certify can go online and take the re-cert test. New Referee and Re-Cert online classes will start in July 2018, Any questions please contact the Club Referee Assignor - Brian Sehon - or Steve Gitlin -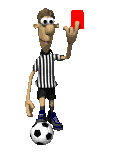 Sponsorship Opportunities! - With your dedication and support, we're able to keep our fees down and help the families of the PSL Soccer Club. We thank you for the for the partnership and helping the kids within the community. If you are not listed as a sponsor but would like to get involved, please let us know. Sponsorship's help with Competitive Program player tuition's and enable teams to get updated equipment and enter Tournaments / Leagues. Recreation Program Sponsors help with purchasing safe and updated equipment for the program and Club. "Thank You" for helping us and supporting us!
New PSL Soccer Club Logo.
Parents taking control of the situation - No Coaching. Taping their mouths not only shows a sense of humor but their dedication and support to the club.
Business Partners - Let us know if you would like to become a business partner with us! Your business can reach hundreds of members within the community, great for advertising and helping us with community events at Swan Park.
News Update: The PSL Soccer Club has proudly partnered with Grace Packs. This great organization helps kids and families with needed food items. We are honored to be working with them, the Club will be hosting a food drive and a competition for the teams - visit to read about what they do.
​
​
The PSL Soccer Club is now a Business Partner of the St Lucie West K-8 School. On Feb. 15th the Club offered over 700 Honor Roll students, certificates for a job well done! If you have a certificate, please bring it to the clubhouse to redeem for registration. We will be partnering with more schools in the coming months, announcements will be made shortly.
The PSL Soccer Club is now a Business Partner with the Palm Pointe Educational Research School. Each month the school holds their "Citizen of the Month" ceremonies and the PSL Soccer Club will be there - Recipients of this award will receive a certificate for a job well done! If you receieve a certificate, you can redeem it at the clubhouse during our registration period.
The PSL Soccer Club is proud to announce a partnership with Castle. We will be working with Castle in our Color Run on Dec. 1st and will be the host for our "Toy Drive" The Club is honored to be working with the organization and helping families in our community. Go to - to see what they do for local families and events that they hold.