Referee -
The Referee plays in integral part of the game, without the Referee the game can not be officiated. A Referee is an Indepenent contractor who has the ability to work at various clubs, tournaments and locations that require a certified official to promote good sportsmanship and integrity to the game. Referees are certified under the USSF and Florida State Referees Association. Referees must take and pass a re-certification course and score a 80% minimum each year so he / she are able to referee a game.
Referees are paid for their services so a Referee should be professional and understand the "Laws of the Game" as well as the "League / Tournament" rules of the organization for which they are working for.
Referees can be young, 13 / 14 years old, they are students of the game. Young Referees work with the Clubs Referee Assignor and or District Administrator to further develop and enhance his / her skills which would reflect on the field.
New to the Referee Program is the kick off of the new website just for referees. No more classroom sessions for new referees, everything can be done online at; www.fl-src.inc Please log in and register if you want to be a referee or to re-certify as a referee. Background checks for referees can be done at www.gotsoccer.com. You will need to set up a referee account.
​
Referee Assignor - Steve Gitlin
E-Mail Address - nolifelines@aol.com
District Referee Adminstrator - Adam Zavelghorba
E-Mail Address - azavelghorba@aim.com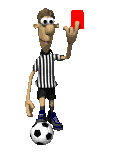 Referee Uniforms and equipment