Information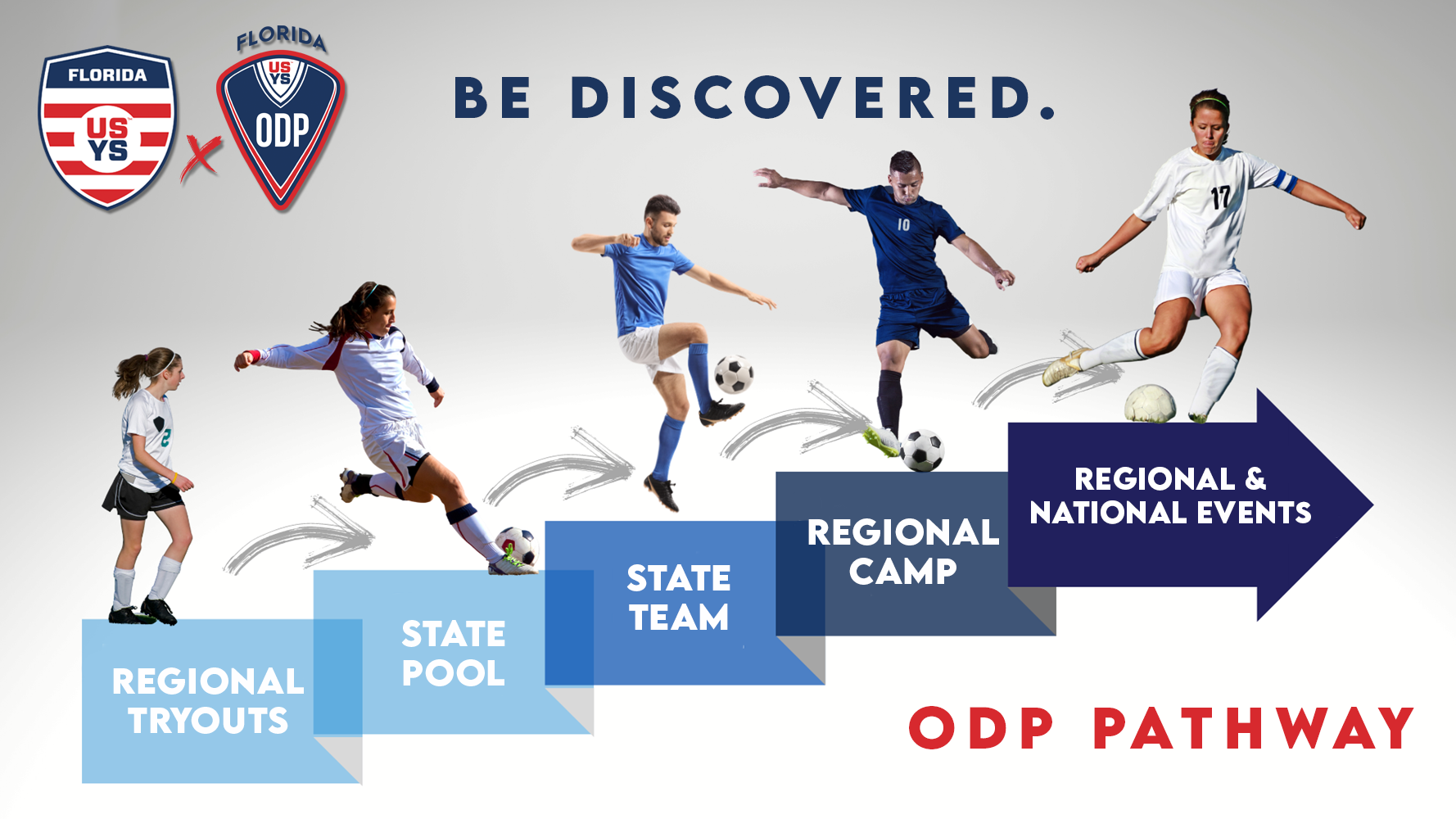 What is the US Youth Soccer Olympic Development Program?
The US Youth Soccer ODP Philosophy
To identify players of the highest caliber on a continuing and consistent basis, which will lead to increased success for the U.S. National Teams in the international arena.
Purpose
The US Youth Soccer Olympic Development Program was formed in 1977 to identify a pool of players in each age group from which a National Team will be selected for international competition; to provide high-level training to benefit and enhance the development of players at all levels; and, through the use of carefully selected and licensed coaches, develop a mechanism for the exchange of ideas and curriculum to improve all levels of coaching.
How do I participate?
Contact your local US Youth Soccer State Association office to find out more about getting involved with US Youth Soccer ODP.
Program Description History
In 1979, the program expanded, the organization became more efficient and multi-year plans were developed. State Associations were encouraged to develop programs which supported and worked in tandem with National and Regional programs. At the beginning of 1982 a formalized program for girls was created, with the addition of a full committee (one member from each Region).
Current Organization
From 1982 until the present, international events for youth national teams have increased substantially and the US Youth Soccer ODP has kept pace by instituting trials and player pools for five age groups in the boys' program, and five age groups in the girls' program.
The US Youth Soccer ODP Selection Process
Each State Association holds ODP try-outs on an annual basis. Age Groups and try-out dates may be different from state to state, based on seasonal and state considerations. Your first contact should be to your State Association for try-out information.
How are Players Selected?
Players are selected, in most states, on the basis of open tryouts. These tryouts are conducted by state association coaches who are recognized for their ability to identify and train players with superior skills. Some state associations combine scouting techniques and invitations to certain players with the open tryouts. Selection of these players is not an easy task. The state association head coach or State Coach will, in most cases, be assisted in the selection process by several other qualified coaches from the club or league level. Players are evaluated on the four components that make up a soccer player:
1. Technique
2. Tactics
3. Fitness and Athletic Ability
4. Psychological Component (attitude)
What are Regional Camps?
US Youth Soccer is divided into four regions, each which offers a regional camp for state association ODP teams in each eligible age group. The camps are designed to provide high level competition and training for participating players. During this training and competition, players who are capable of performing at a higher level of play are identified for possible national team camp, pool, or team participation. Each region varies somewhat as to the specifics and the cost of their camps. Your state association or regional administrator should be contacted for more information.
What is a National Camp?
National Camps and Interregional events are held throughout the year at various locations in the United States. The National Team Coach or a National Staff Coach is present at these events to observe, train, and identify players for placement in the national pool or on a national team.
What are the Benefits of Participating in US Youth Soccer ODP?
1. Development as a player. The opportunity to train and play with the best player's in one's age group.
2. Quality instruction from nationally licensed coaches.
3. Quality competition. Games against other state association ODP teams.
4. Exposure to regional and national team coaches.
5. The opportunity to represent one's state, region, or country in competition.
6. Exposure to college coaches.
FYSA ODP Timeline

Here's some frequent questions asked:
What is the cost?
* Training Centers - $65 for all three in Region D
* Pool training - $175.00 for all three weekends of pool training
2005, 2006,2007,,2008,2009 and 2010 - boys and girls

The FYSA ODP players are identified for pools and teams based on the year they were born. Pools and teams are formed for each birth year. It is very rare that we would have a player participate in a birth year that is not their own. This is the international standard and differs from our club U12-U18 age groupings which may have multiple birth years on their teams.
Open trials - Open trials are used for newer players who have been seen minimally. Players can only attend one site in any trial region.

Scouted - Players can be evaluated in FYSA events such as State Cup, Region Cup and the FYSA Premier League as well as showcases and US Youth Soccer events. They will be invited to the next pool training if chosen.

Club recommendation - Players may be recommended by their clubs for evaluation and identification to the state pool. Recommendations should be made in the fall to allow for follow up evaluations.

Previous year's state team - A player from the previous year's state team will automatically be put in the pool for the upcoming year (this does not guarantee a spot on the team).
We will hold trials/tryouts all over the state during the fall. Each tryout is a weekend (two sessions on Saturday and one session on Sunday) and at the conclusion of each trial/tryout we will announce those players selected.

A player may only attend one trial/tryout.

The 2008-2010 players not selected at the trials will be invited to a camp. More information will be made available closer to the event.

The players selected at these trials will be invited to two or three pool trainings from which the state ODP teams will be selected.
Create an account for your athlete in Gotsport. Once you have done that you can find the link for registration on our tryouts page.
State Teams will be formed from the FYSA ODP player pool after the pool training events. Evaluations of the players will be made in the pool training and during the seasonal year through our scouting process. The number of teams and players will be determined based on the depth of the pool in each age group. These players will be brought into two FYSA ODP team training events in preparation for the Region III ODP Camp and other sub-regional events.
Medical release (send prior to trials/training events).

Medical history (send prior to trials/training events).

Copy of the athletes insurance card (send prior to trials/training events).

Copy of the Covid Questionnaire (if applicable).

Appropriate attire [ball, water, soccer gear, pool training shirt(s) if applicable, sunscreen].
On Sunday the players who have been chosen will be announced at the event.
A list will be posted on our website with all the names of the players who have made the team via the ODP Selections page.
FYSA has adopted the curriculum model of US Youth Soccer. The model encourages a possession style of play. Our goal is to provide training sessions that will encourage the development of the individual player and mirror the player developmental goals of US Youth and US Soccer. The United States is split into four regions. Florida is a part of Region III. Within the state of Florida, we put together STATE TEAMS for each eligible age group. The state teams compete at a Region III tournament and the REGION TEAMS are then selected. The region teams compete and the NATIONAL TEAMS are then selected.